Email news@statisticool.com to sign up to receive news and updates
Squishypoet: Most Popular Poetry Blog Ever
5/19/20
In this article, I share an interesting interaction I had with a poet/poetry site called "Squishypoet".
In a Facebook poetry group, a "Lela Kira" posted: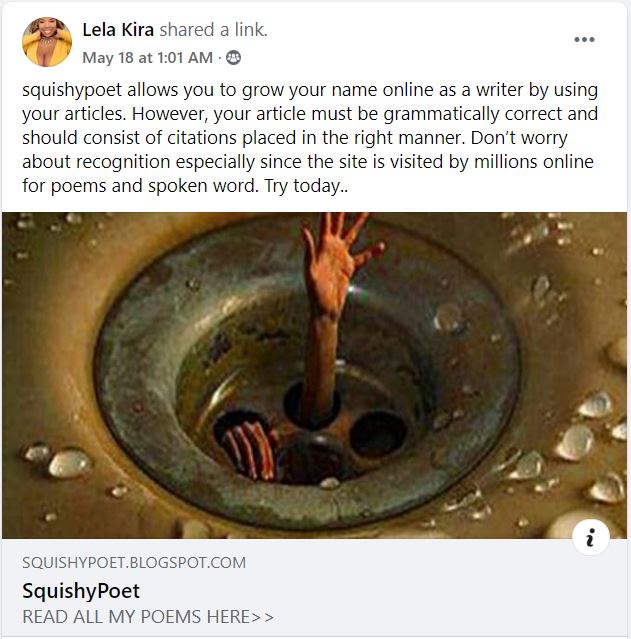 "squishypoet allows you to grow your name online as a writer by using your articles. However, your article must be grammatically correct and should consist of citations placed in the right manner. Don't worry about recognition especially since the site is visited by millions online for poems and spoken word. Try today.."
I am very familiar with poets, poetry sites, and the largest poetry sites out there, so I found the claim of "visited by millons online for poems" for that specific blog (https://squishypoet.blogspot.com) hard to believe after I checked it out. I replied, pointing to the millions of visitors claim, with "Prove it." Then, I received a reply of "searious" and was provided this screenshot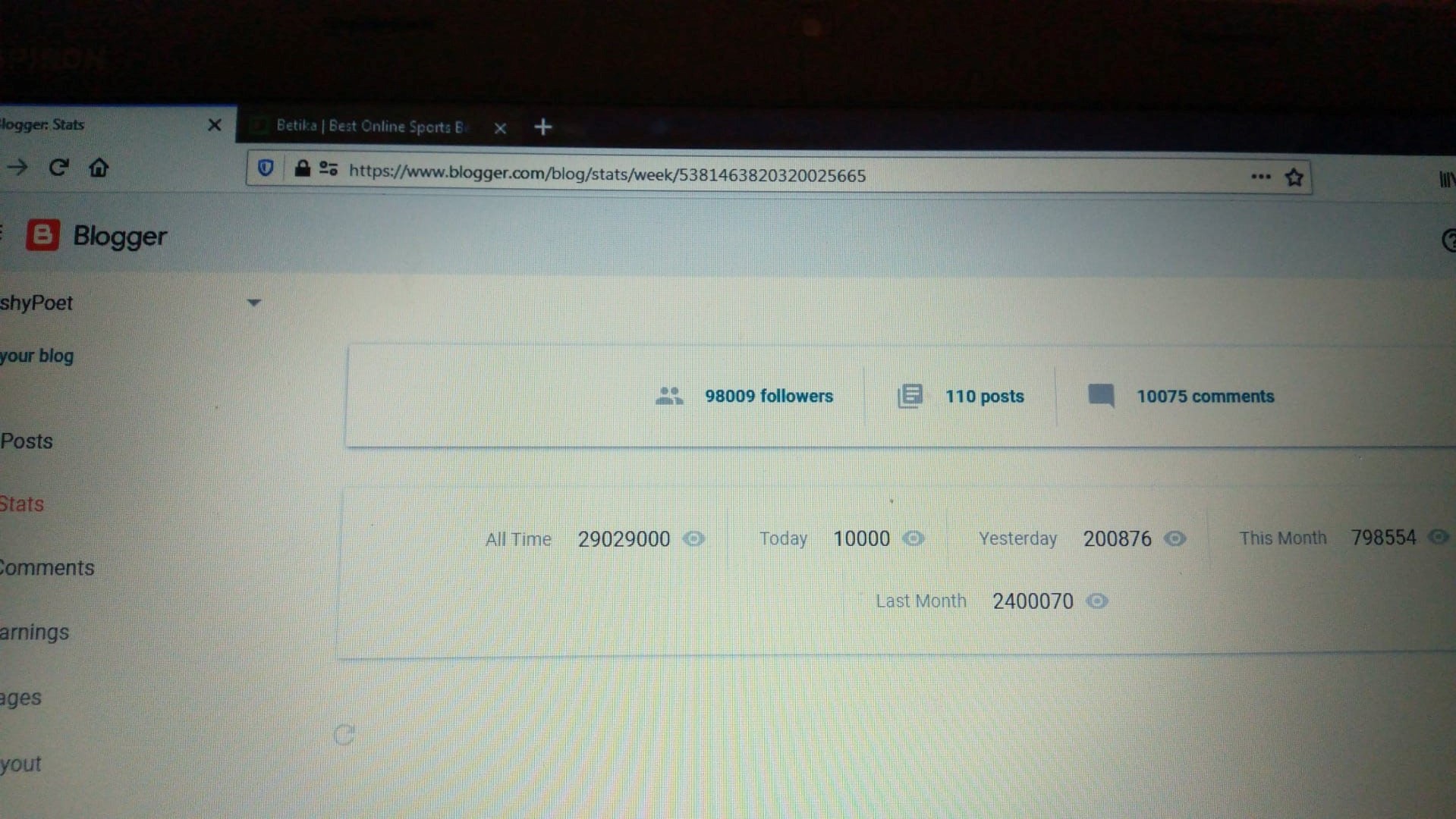 But it is serious.
First, they are claiming to have traffic that clearly their own blog doesn't support. For example, at this time there are probably about 200 comments on the blog posts in total (despite the screenshot saying over 10,000 comments), only 120 blog profile views at the time of writing, and related Instagram, Twitter, and YouTube accounts I found by searching for the name have very few followers, the blog does not come up in many places at all in a Google search, Alexa, and other traffic estimator tools, and the blog has only been online since 8/2019.
Second, they are requesting poets' work, as well as making claims of the poets will gain exposure and make money from this ("very soon all those who will be submitting great content will be paid some commission" on Facebook, and "EARN CASH ON LIKEE" on their Twitter post). They also have a "Donation" button at the top of their blog.
I wasn't claiming the screenshot was Photoshopped or due to bot traffic at this point, but I did express skepticism at the blog statistics so I asked for an explanation of the blog statistics. I received
"we have our marketing team they can break that down for you, please contact lipsyke@gmail.com am sure they can explain in deep am just among there writters"
Sure. I emailed that address but did not hear back. I would actually love to blog on Statisticool.com on how a poetry site can gain so much traffic in so short of a time so other poets can work to emulate their success.
I don't suspect I will hear back.
Update 6/25/20. The blog https://squishypoet.blogspot.com has been deleted. He changed his blog to https://worldpoetryforum.blogspot.com/.

Thanks for reading.
Please anonymously VOTE on the content you have just read:
Like:
Dislike:
---
For poetry, I recommend:
High Quality Every Day Carry (EDC) Bolt Action Pens & Pencils by Bastion. Use discount code JS20 to get 20% off!
Shop at The Poet Life store
Please show me a randomly selected poem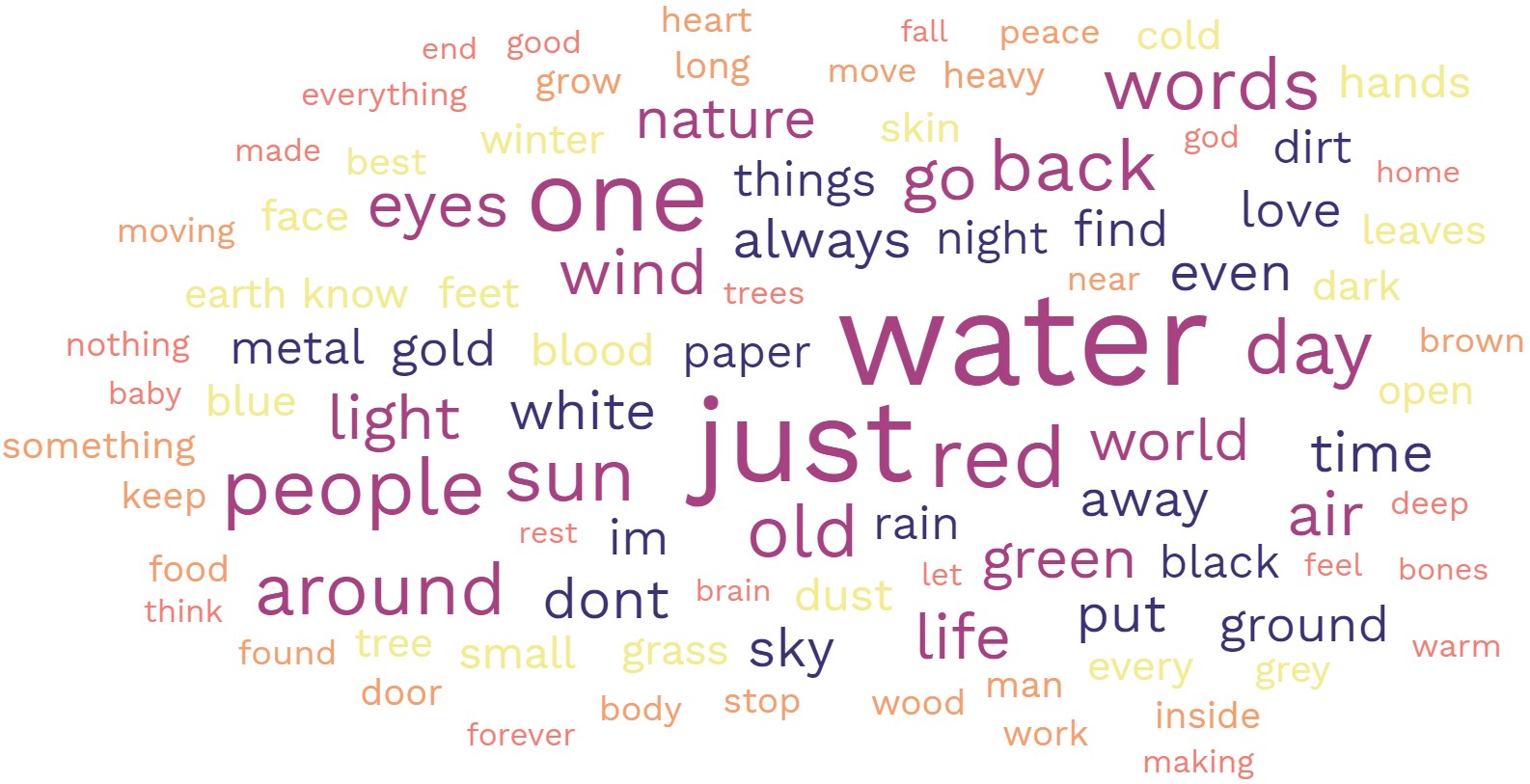 ---
If you enjoyed any of my content, please consider supporting it in a variety of ways:
AFFILIATE LINK DISCLOSURE: Some links included on this page may be affiliate links. If you purchase a product or service with the affiliate link provided I may receive a small commission (at no additional charge to you). Thank you for the support!